FootJoy Shoe Fitting Professional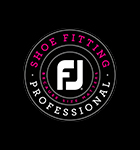 Here's an interesting fact: did you know more than 70% of golfers wear the wrong size shoe?
The right size will help your shoes last longer, improve comfort and help you get the most out of your game.
As official FootJoy shoe fitting professionals, we can ensure you are wearing the right size shoe. It's not just about fitting you for length, but width too, and we'll measure both feet.
In this video, Foremost TV speaks to Mike Foley, Footwear Product Management, FootJoy, about why it's so important for golfers to get fit, and how FootJoy, alongside our team, can help.